Creating #visual content not only engages the readers you currently have but can actually attract more visitors.  If you haven't already, you should consider using visual content!  Use this guide to learn how to #boost engagement using visual content on your blog, website and media.
In this post you'll find some useful tactics as well as tools that are easy-to-use and will help you attract more viewers to your blog, or website.
1) Animated GIFs Are Easy to Create
Using animated GIFs can expand your marketing channels and increase the possibility of your content being picked up by major publications and other blogs.
Amy Smarty of SocialMediaExaminer.com writes "Millennials (people reaching young adulthood around the year 2000) are known as Generation GIF. If you check out publications like BuzzFeed, Gawker and Deadspin or browse the front pages of Reddit and Tumblr, you'll see animated GIFs are everywhere."
There are many tools available to help you create these animated GIFs.  Here a few you can check out.
GIFMaker – allows you to create animated gifs, slideshows, and video animations with music online freely and easily, no registration required.
MakeGIF –  lets you create animated GIFs the free and easy way. You can also use it to modify an existing GIFs.  You can create from a variety of sources; YouTube videos, photos and webcam videos.
GIFS – with GIFS you can create high-quality GIFs online from YouTube videos. Simply select the portion of the video you want to turn into the GIF, you can even add captions.
Note: You can also create an animated GIFs by modifying an existing image.
2) Check out On-Hover Sharing Buttons
Adding hover social sharing icons on each image can be an effective way to encourage your reader to share your content.  A simple mouseover call to action will prompt them to share more readily.  It's a surprisingly effective way to increase #engagement.
Here are a couple of tools that can help.
WWW Social Share on Image Hover – is a WordPess Plugin that helps you to add #social media icons on your Post #images . It will shows social media icons on hover the post images on your site.
Symphony Tools – is a widget that makes it easy for your visitors to share your posts to Pinterest, Facebook, Twitter, and LinkedIn.
Tip: If you're a Hootsuite or Buffer user adding a browser extension will enable their sharing buttons as well.
3) Reach Your Audience Through Emotion
Emotions plays a huge part in most people's live, whether they recognize it or not.  Connecting with your audience on an emotional level leaves a long-lasting impact. When something sparks an emotional response, the viewer is more likely to share, comment on and remember it.
People respond to things they see more than any other form of stimulation.  Connect with your users on an emotional level and they will begin to associate those feelings with your brand.  Joy, anticipation, trust and interest can invoke positive feelings and encourage sharing.
4) Find Unconventional Holidays To Celebrate
From National Freedom Day to National I Love Lucy Day (which also happens to be my birthday), uncommon  holidays make celebrating hard to resist.  They also make for great ideas and inspiration for visual content.  They provide a source almost daily for new content!
Coca-Cola does a great job in their social media marketing with this.  They have incorporated images of cute Polar bears to celebrate National Polar Bear Day.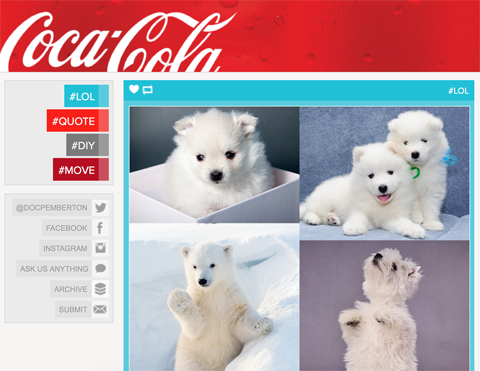 Watch for other large corporations that do something similar, Budweiser comes to mind.

5) Ask your Readers to Participate
Encouraging your viewers to participate not only gives you additional content, but makes them feel appreciated.  Everyone loves to see their work being promoted, ask them for suggestions or to provide you visuals, this can also capture their attention on your social media channels. Request photos, logs, designs or anything else they feel would help support your brand.  All of the top channels in social media are great platforms for this type of campaign, try it out on your Facebook, Instagram or Pinterest feed.
Here are a couple of  ideas to get you started:
Caption Contest – provide a image then ask your followers to come up with a fun caption.  Engage even more people by using ads.
Selfie Contest – these type of contests can be so much fun!  Selfies are something most everyone can relate to now-a-days.
Think of something fun you can give them as a prize, Kenneth Cole offered fans the chance to win free shoes every month for a year.  I'm not suggesting you give the store away, but find something of value you can give your winning reader for participating.
And remember to ask your readers to share your contests; the more the merrier, right!
Contests can help you build a relationship and trust with your viewers.  It's easy to trust a brand that encourages love and sharing.
6) Come up With some Interactive How-Tos
Would your readers find a interactive walk through to show how to use your product valuable?  Probably So!  Use an online tool like the Whatfix browser extension to help you create interactive flows in minutes.
7) 

Differentiate

 Content by Tailoring it to Your Audience
Identify how your audience responds to different visual content.  Create different types for each social media platform to learn what resonates best.  Try comics, videos, info-graphics or anything that will give you a ideas what they find appealing.  Even a single image with text can be very effective.
Some more examples:
Do you have a how-to guide that could be content for a video?
Create a SlideShare of visual quotes you've been tweeting.
Use a how-to video as content for a instructional graphic.
Use a existing presentation and create a video or Animated GIF.
There are tons of tools on the web to help here are a few that may help and generate more ideas:
DirJournal – make your site or landing page more engaging
GifDeck – convert your SlideShare into a GIF online
FirstSiteGuide – guidance from a  collection of web geeks who believe in a web for everyone
Once you've gotten started with your marketing plan you'll want to gather data and determine what gets the most engagement.  Look at what the leading traffic boosting and click generating visual content leads to purchases.  Check and see what others are commenting on and sharing too, look at where they share it also it may give you more insight into what is working well.  You may want to start creating different content for each of your social media channels.  Use the information you glean and tailor future content.
You can use analytics software like Fanplayr to help you identify patterns emerging. 
In Conclusion
Visual content has a growing influence on social networks and is popular on every platform.  Whether you look from Instagram or Pinterest images to Twitter and YouTube videos, viewers relate to a visual message.  Boost your engagement by using what readers are looking for.
I'd love to read any feedback you may want to share.  What tactics are working for you?  Did you find this information useful?  Feel free to share in the comments section below.
Related articles